YouTube censors conservative reporter Citizen Kelly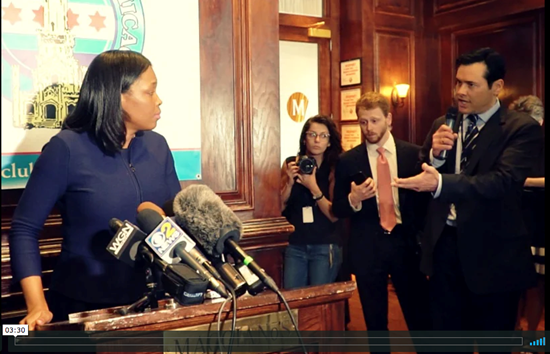 YouTube removed a
conservative reporter's video
Wednesday following an explosive report of a sexual abuse scandal in Chicago Public Schools. The reporter, William J. Kelly, uploaded a video of a press conference with Chicago Mayor Rahm Emanuel's appointed CPS Chief Janice Jackson, who was taking questions from the media about the more than 520 reported cases of sexual abuse and sexual grooming of underage students by teachers and administrators in the last eight years. A
Chicago Tribune investigation
made the cases public.
YouTube sent Kelly a notice claiming his video was "flagged for review. Upon review, we've determined it violates our guidelines. We've removed it from YouTube and assigned a Community Guidelines strike - a temporary penalty against your account."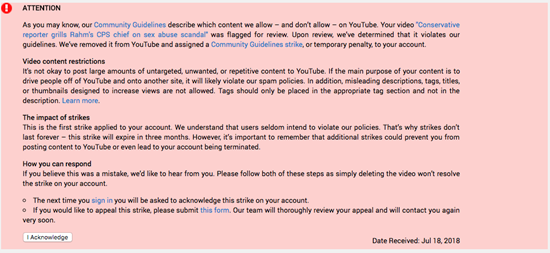 Figure A. YouTube removes conservative reporter's video
Kelly took Jackson to task for her role in hiding the sexual abuses cases from public view. Reminding her that school administrators in other cases have been charged criminally, Kelly asked Jackson if she had retained counsel. He also questioned how many lawsuits had already been filed against the City of Chicago. "Taxpayers will be on the hook for the inevitable lawsuits as a result of this sexual abuse scandal in Chicago Public Schools. How many millions of dollars will taxpayers be on the hook for?" Kelly asked. Jackson said there was no way for her to know the answer. "It's that big of a number. It's going to be that massive?" Kelly said.
Prior to the press conference, Jackson received a standing ovation from Chicago's elite after a speech about the progress of CPS at the City Club of Chicago. Jackson recently appeared in TV ad spots touting CPS achievements paid for by a non-profit funded by donors to Emanuel.
Though it rivals the sexual abuse scandal that has rocked the Catholic Church for decades, the Chicago Public Schools sexual abuse scandal has not received any national media spotlight. The #MeToo movement is nowhere to be found.
The scandal could not come at a worse time for Emanuel who is preparing to run for a third-term as Chicago mayor in 2019. He
was elected Mayor in 2010 and assumed office in early 2011, a period of time which coincides with the more than 520 cases of sexual abuse against teenage and pre-teen students.
No stranger to controversy, in 2011, Kelly confronted Sen. Dick Durbin in a
video that went viral
after members of the Chicago media confronted Kelly. In another viral incident, CBS correspondent Jay Levine
threatened to deck Kelly on-camera
for asking then-mayoral candidate Rahm Emanuel about his Chicago residency problem. In 2014, Kelly busted the caps in the Chicago mayor's race with a $100K donation, which forced Emanuel into a historic runoff election.
Kelly, who hosts "The Citizen Kelly Show, a daily two-hour radio show on AM 1590 WCGO, is also a past contributor to the Daily Caller, American Spectator, Newsmax, and the Washington Times. He owns an Emmy award-winning TV production house based in Chicago.