Home
>
News
> Republican candidate William J. Kelly attacked by Rauner supporter at Columbus Day Parade
Republican candidate William J. Kelly attacked by Rauner supporter at Columbus Day Parade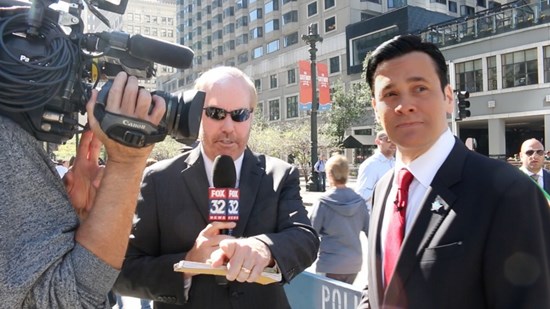 William J. Kelly, Republican candidate against Bruce Rauner, has issued the following statement:
I went to the Columbus Day Parade today not only as a Republican candidate for Governor but as a supporter of the Italian-American community and a 4th degree member of the Knight of Columbus.
While doing an interview with reporter Mike Flannery of WFLD-TV, the local FOX affiliate, I was attacked on-camera by a supporter of Bruce Rauner. It is unacceptable for any candidate for public office to be attacked. Consequently, I have filed a police report against my attacker to send a clear message that I will not be intimidated by any political thugs of Governor Rauner.
Chicago is known nationwide and worldwide for its violent crime and political corruption. When I win the Republican primary against Bruce Rauner, the man who betrayed voters by making Illinois a sanctuary state, forced taxpayers to fund abortion, and who opposes President Trump, I will restore pride and honor to Chicago and the State of Illinois.
###
For comment or interview, contact Amy Olson at 312-768-8683 or by email at williamjpkelly@gmail.com