One year ago, Tiffany Thrasher was murdered by an illegal immigrant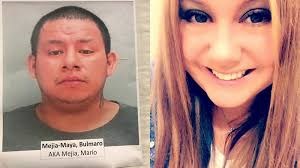 April marked the one-year anniversary of Tiffany Thrasher's death by a man who should not have been in this country. He was a green card holder with a long and violent rap sheet. He should have been deported.
Tiffany Thrasher was found strangled to death on Easter Sunday morning in her apartment. She was scheduled to sing at Easter mass and when she failed to show up, members of Living Hope Church in Elk Grove Village became concerned and called the police.
Bulmaro Mejia-Maya, a construction worker who lived next-door to the victim, has been charged with first-degree murder, aggravated sexual assault, and home invasion in the killing of Thrasher
Illinois Politicians and the media have ignored Tiffany Thrasher's murder on Easter Sunday in 2017. Governor Rauner has never spoken of it. J.B. Pritzker wouldn't dare mention it.
Most people have never heard her name. I wrote this Daily Caller piece on Tiffany Thrasher.
Please share it as widely as you can.
http://dailycaller.com/2017/04/21/another-illegal-immigrant-might-be-behind-a-brutal-murder/