KELLY: Why is Mayor Lightfoot Giving Out $40K Pandemic Pay Raises?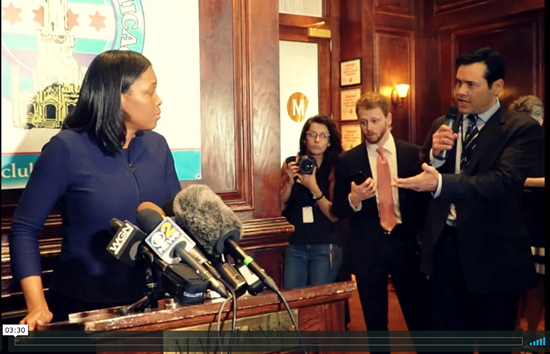 CHICAGO (January 4, 2021)
- William J. Kelly, who has thrown his hat into the Illinois GOP party chairman's race, is calling out Mayor Lori Lightfoot and the City of Chicago for giving CPS Chief Janice Jackson a $40K raise during a pandemic.
"The last Republican Mayor of Chicago was William "Big Bill" Hale Thompson in 1931," Kelly said, "Since then, Chicago has had decades of Democrat-rule and during that time, Chicagoans have had nothing but lies, corruption and death. To add insult to injury, now the City of Chicago is doling out $40K pandemic pay raises."
Kelly says that Jackson has presided over an era of rape and sexual abuse at Chicago Public Schools that has been swept under the rug.
There have been at least 1,000 cases of abuse reported.
Kelly has called for a Department of Justice investigation into the rape and sexual abuse scandal at Chicago Public Schools to no avail. Both of Kelly's parents were Chicago Public School teachers and Kelly is also a graduate of Archbishop Quigley Preparatory Catholic Seminary.
Mayor Lightfoot's record on Chicago crime and mismanagement may be the worst in the city's history. In 2020, there were more than 3,000 shootings and homicides topped 700.
97.7% of perpetrators were black and yet Lightfoot blames police and systemic racism for Chicago's problems.
Kelly points out that all of Chicago's top officials are African American:
The Chicago Mayor is black
The Superintendent of police is black
The Cook County State's Attorney is black
The Chief Judge of Cook County Circuit Courts is black
The Illinois Attorney General is black
The Chicago Fire Department Commissioner is black
The Cook County Board President is black
The State Senate Majority leader is black
The Illinois Lieutenant Governor is black
The Illinois Secretary of State is black
The Clerk of the Circuit Court is black
The Chicago Treasurer is black
The Chicago Transit Authority President is black
The CEO of Chicago Public Schools is black and
The Commissioner of the Department of Water Management is black
40% of the City Council belongs to the Black Caucus with an average pay of $122,304 plus $122,000 a year in expenses. Pension is 80% of the highest pay during tenure.
At the end of Chicago's 2019 fiscal year, the Chicago deficit was $832,200,000.
"At a time of crisis, Mayor Lightfoot has the hubris to award $40K pandemic raises to failed Chicago public officials. COVID-19 isn't what's killing Chicago, it's the Democrat Party under Mayor Lightfoot," Kelly said.
Kelly is an outspoken critic of Governor Pritzker and Mayor Lightfoot and a former candidate for Chicago Mayor against Rahm Emanuel.
He is a native of Chicago's South Side and a current resident of Streeterville.
For updates, please visit www.williamjkelly.org