Kelly: We defeated Rahm but now the real work begins (video)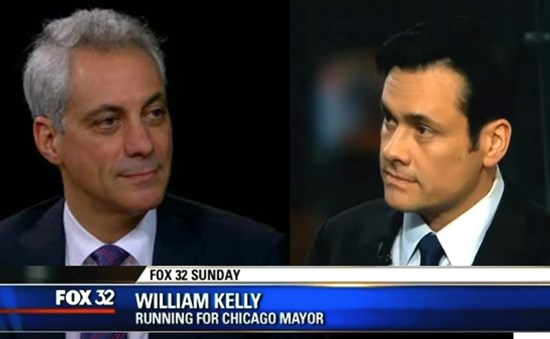 Chicago, Illinois -
Republican William J. Kelly, host of the "Citizen Kelly Show" on AM 1590 WCGO and
Chicago mayoral candidate
, has issued the following statement, claiming victory for Mayor Rahm Emanuel's surprise decision not to seek re-election to a third term in 2019:
"Mayor Emanuel's decision not to seek a third term is a victory for the real people of Chicago. I have spent the last eight years opposing Rahm and we may have won the war but now we need to win the peace," Kelly said. "We stopped Rahm
but now the real work of rebuilding Chicago begins."
Kelly says the first thing he'd do as mayor is invite President Trump to Chicago and put an end to Chicago's sanctuary city status. "We must end the bloodshed once and for all and that means reinvesting in our city neighborhoods and citizens," Kelly says.
In June, Kelly joined forces with former Gov. Pat Quinn on the "Term Limit Rahm" referendum and filed 86,000 petition signatures to put the question on the November 2018 ballot. Emanuel mounted a legal challenge to the signatures but was defeated last week.
"We defeated Rahm last week at the Chicago Board of Elections and now he's quit the Mayor's race. Rahm saw the writing on the wall," Kelly said.
Kelly is a
native of Chicago's South Side. He
i
s an Emmy award-winning TV producer and host of the "Citizen Kelly Show" on AM 1590 WCGO which airs daily from 10-12AM. He is also a contributor to Daily Caller, Newsmax, and a former blogger with the Washington Times.