Kelly vetting clean candidates for Ives' open 42nd district seat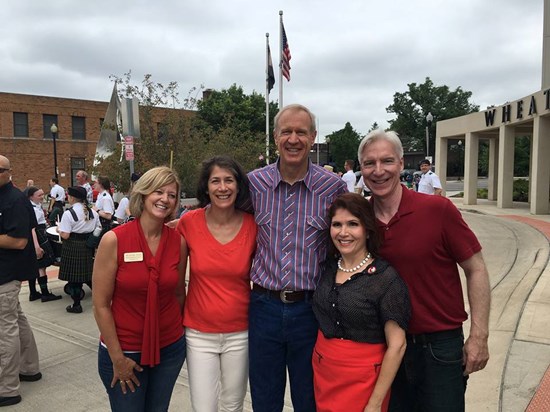 Caption: Jeanne Ives with Governor Rauner and Diana Raner
William J. Kelly, Governor Rauner's Republican opponent in the 2018 primary, has released the following statement:
We welcome Bruce Rauner's supporter, Jeanne Ives, to the Governor's race. However, we are calling on her to return the money from Governor Rauner and his wife.
I announced my campaign for Governor against Bruce Rauner back in May and opposed his sanctuary state bill and taxpayer-funded abortion bill when all of Rauner's supporters, like Ives, were silent.
More importantly, we are very excited that the 42nd district seat currently held by Jeanne Ives is now open. We are looking for a candidate to run in this open seat. This is a tremendous opportunity and a safe seat in a Republican district. Whomever is elected to this seat will be an elected state representative for life unless they do something really, really stupid.
This time, we need a "clean" 42nd district candidate with zero money ties to Bruce Rauner or his henchmen John Tillman and Dan Proft, which is why we will be vetting this candidate very, very carefully.
If you are interested in running for the 42nd state house district seat, please contact us directly through the campaign website here.
###
William J. Kelly is the host of "The Citizen Kelly Show," which airs daily on AM 1590 WCGO in Chicago. In 2014, Kelly busted the campaign finance caps in the Chicago mayoral race, forcing Mayor Rahm Emanuel into a historic run-off election. He is the founder of RevDigital, an Emmy award-winning TV and documentary company. He is a contributor to the Daily Caller and a columnist for Newsmax. He is a native of Chicago's South Side.
For comment or interview, contact Amy Olson at 312-768-8683 or by email at williamjpkelly@gmail.com