Kelly Taps Ray Tranchant For Running Mate Against Rauner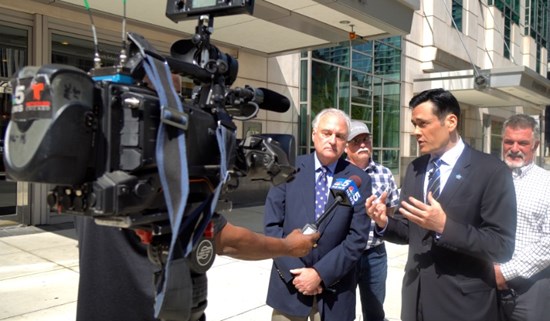 Rauner snubbed Tranchant, whose daughter was killed by an illegal immigrant, Kelly says
(Chicago, IL) September 5, 2017 – Today, William J. Kelly, Bruce Rauner's opponent in the 2018 GOP primary, blasted the Governor's support for SB 31, the Trust Act.
"As the only Republican candidate for Illinois Governor, I am calling out Bruce Rauner, who betrayed voters by signing SB 31 into law and making Illinois a sanctuary state. For months, Republican state legislators said nothing about the Trust Act's passage in the General Assembly - no alarm bells, no warnings. After a public backlash, they are speaking out now. But why wait until the bill has become law and it's too late?" Kelly said. "Rauner's sanctuary state betrayal has finally woken voters up."
Kelly also announced that he has tapped Ray Tranchant as his running mate against the unpopular incumbent Illinois Governor.
"I am also honored to announce my running mate for Lt. Governor of Illinois, Ray Tranchant, a Danville-area resident and national immigration activist."
In March 2007, Tranchant's teenage daughter, Tessa, 16, was tragically killed by Alfredo Ramos, an illegal alien who was intoxicated and speeding. Her best friend, Allison Kunhardt, 17, was also killed in the deadly car crash. Ramos was charged with manslaughter and received 24 years in prison.
In a recent interview with Fox News' Bret Baier, Rauner promised to meet with families of loved ones killed by illegal immigrants to discuss the Trust Act but quickly broke his promise. "Governor Rauner snubbed and disrespected the family members of these victims but now he's going to meet one of them – Ray Tranchant - on the campaign trail every day," Kelly said.
Kelly says that there is only one way now to recall and repeal SB 31:
"Today, unlike Bruce Rauner, we stand proudly with President Trump and the federal government. If elected, we will reverse decades of unfairness and discrimination against Illinois citizens – the middle class, the working class, and the poor. I will recall Rauner by defeating him in the 2018 GOP primary and repeal Illinois' sanctuary state status by executive order. As Governor, my first act will be to recognize the federal government's exclusive power to make and enforce immigration law. This power preempts any state or local state law, including any unconstitutional laws passed by Bruce Rauner and his friend, Rahm Emanuel." Kelly said.
For interview or comment, contact Amy Olson at 312-768-8683.
###
William J. Kelly is the host of "The Citizen Kelly Show," which airs daily on AM 1590 WCGO in Chicago. In 2014, Kelly busted the campaign finance caps in the Chicago mayoral race, forcing Mayor Rahm Emanuel into a historic run-off election. He is the founder of RevDigital, an Emmy award-winning TV and documentary company. He is a native of Chicago's South Side.