Kelly: Rep. Kinzinger has Destroyed His Future with GOP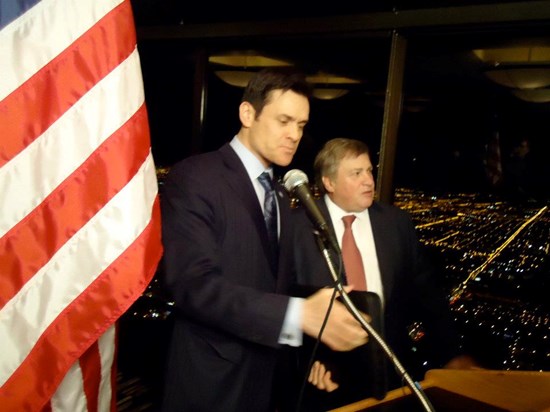 Pictured: William J. Kelly with GOP pollster Dick Morris
CHICAGO (December 29, 2020)
- William J. Kelly, who has thrown his hat into the Illinois GOP party chairman's race, says that Rep. Adam Kinzinger's dangerous statements have made him unfit for public office:
"For years, the GOP has seen sad turncoats like John Kasich, Mitt Romney, and Adam Kinzinger turn their backs on Republican voters to join forces with socialists for personal gain," said Kelly. "When I become the new chairman of the Illinois GOP, I make sure that fake Republicans like Kinzinger never win another primary in the State of Illinois."
This week, Kinzinger expressed alarm at Trump's call for his supporters to hit the streets of D.C. on January 6th. "My God. Trying to burn the place down on the way out because you can't handle losing. No evidence, nothing but your temper tantrums and crazy conspiracies. Embarrassing," claimed Kinzinger on CNN.
Kelly says Kinzinger is just desperate to get facetime on CNN.
"Rep. Kinzinger is a disgrace. Millions of Americans believe - and righty so - that the presidential race was compromised by election fraud. But Kinzinger, despite the evidence, denies any election fraud occurred. 72% of Republican voters see President Trump as the Party's future but Adam Kinzinger believes those voters are a threat, not the Democrats who looted Chicago and other cities this summer." Kelly said. "I watched my city, Chicago, go up in flames and Rep. Adam Kinzinger said nothing."
Kelly is an outspoken critic of Governor Pritzker and Mayor Lightfoot and a former candidate for Chicago Mayor against Rahm Emanuel. He is a native of Chicago's South Side and a current resident of Streeterville.
For updates, please visit www.williamjkelly.org