KELLY: Hell to pay if Rahm blocks mayoral term limits off ballot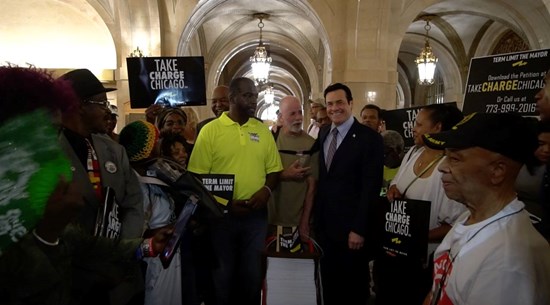 William Kelly joins Take Charge Chicago organizers
Chicago, Illinois - 2015 Republican mayoral candidate William J. Kelly is blasting Rahm Emanuel's fight to block a mayoral term limits referendum off the November 2018 ballot. On Monday, Take Charge Chicago organizers, led by Gov. Pat Quinn, filed more than 86,000 signatures at the city clerk's office to meet the deadline for ballot access.
The City Council in June voted to put three nonbinding referendum questions to Chicago voters in November. Aldermen voted to put on the ballot questions asking about uses for potential legal marijuana proceeds, the possibility of creating a new homeowners property tax exemption and whether to ban plastic straws.
The Emanuel administration has said that because a state law limits the number of referendums on each ballot to three, those in the council's batch would leave no space for the term limits referendum. "Let the people speak," Quinn says.
"I promise that if Rahm Emanuel blocks this term limits referendum from appearing on the November ballot, there will be hell to pay," says Kelly. "I will force another mayoral runoff election just as I did in 2015." In 2014, Kelly busted the campaign caps in the Chicago mayor's race, allowing Rahm's opponents to raise unlimited cash from a single donor and forcing him into a historic runoff.
Emanuel is under fire after 72 people were shot, 13 fatally this weekend, one of the most violent in the city's history. Last month, a Chicago Tribune investigation uncovered hundreds of cases of sexual abuse in Chicago public schools in the last ten years. Emanuel has been in office eight years.
"After eight years, Rahm Emanuel has done nothing to stop the bloodshed on Chicago's streets. He has done nothing to stop sexual abuse in Chicago Public Schools. He has proven once and for all that he doesn't care about Chicago. All he cares about is getting re-elected," Kelly says.
A native of Chicago's South Side, Kelly is an Emmy award-winning TV producer and host of the "Citizen Kelly Show" on AM 1590 WCGO which airs daily from 10-12pm. He is also a contributor to Daily Caller, Newsmax, and a past contributor to the Washington Times.