Ives Campaign Promotes Fake Steve Bannon Page Endorsement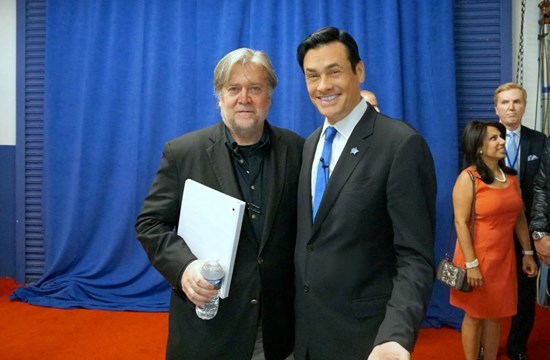 William J. Kelly, Bruce Rauner's Republican opponent, has issued the following statement:
This weekend, a fake Steve Bannon Page on Facebook endorsed Jeanne Ives for Governor. I checked directly with Bannon and his team and they confirmed the Facebook page is a fraud. Bannon is in contact with Facebook to have this page taken down. The real Steve Bannon doesn't even have a Facebook page.
It is obvious this is a fake Steve Bannon page but that didn't stop Jeanne Ives campaign and her supporters, including Illinois Tea Party coordinator Denise Cattoni from sharing the fake Steve Bannon page endorsement. The post has since been taken down: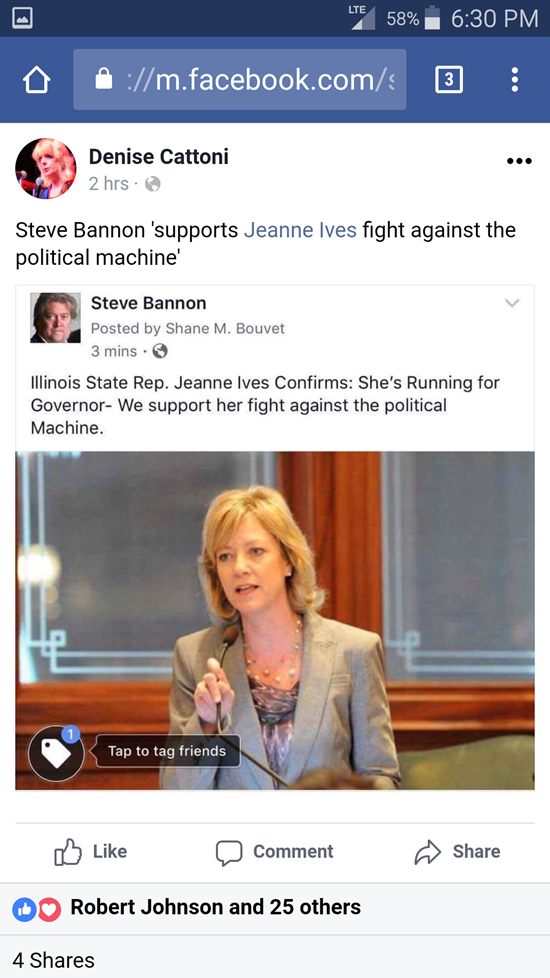 Source: Fake Steve Bannon Facebook Page
Who with the Ives campaign perpetrated this fraud? This is another political dirty trick. It is dishonorable to trick people like this. It is deceitful and it shows that Rep. Ives doesn't have the character or the honesty to run for office.
I am not surprised by this deceit. Ives is backed by the very same people who helped elect Bruce Rauner. She is supported by the very same people who took Rauner's money and attacked his critics. This includes John Tillman, Dan Proft, the Illinois Policy Institute, and the Illinois Opportunity Project. The Illinois Tea Party with the help of Denise Cattoni was hijacked in 2014 to help elect Rauner despite his Democrat history. These people sold us out and now they are selling us on Ives.
I know Steve Bannon. I worked with Steve at Breitbart. I was good friends with the late Andrew Breitbart. And I can tell you both Andrew and Steve would never have sold us out to Bruce Rauner as Jeanne Ives and her team did. The people who sold us out to Rauner are the Swamp. We need to drain the Swamp in Illinois and everywhere else and that is what my campaign for Governor is all about.
###