Citizen Kelly: Chicago Democrats Demand Anti-Hair Discrimination Bill, Ignore Murders
CHICAGO (May 17, 2021)- William J. Kelly, host of the "Citizen Kelly Show" mocks Illinois Democrats who are uber concerned about "hair discrimination" but not about the deaths of African American kids in Chicago. Here's the latest:
"To date, more than 1214 people have been shot and 218 killed in Chicago in 2021, including a 14-year-old boy last weekend. If that doesn't make your hair stand on end, nothing will," Kelly says. "But to Illinois Democrats, Chicago kids in gang crosshairs? – that's not a big deal. What is a big hairy deal is hair discrimination."
A new Illinois bill would take state funding away from schools with "outdated" school policies on hairstyles some black kids wear – such as braids or dreadlocks. If passed, the law would also put the names of the schools on a public website to subject them to harassment.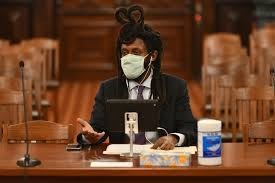 Chicago Democrat Sen. Mike Simmons(pictured at right) is spearheading the legislation.
"Because to Illinois Democrats, this hair-raising issue is much more important than a14-year-old African American boy, named Eddie Thigpen, getting shot dead in Chicago's Humboldt Park," Kelly says.