News
Latest updates from the reform committee.
Thursday, June 1, 2017 9:45 AM
Kelly: Gov. Rauner has failed Illinois taxpayers again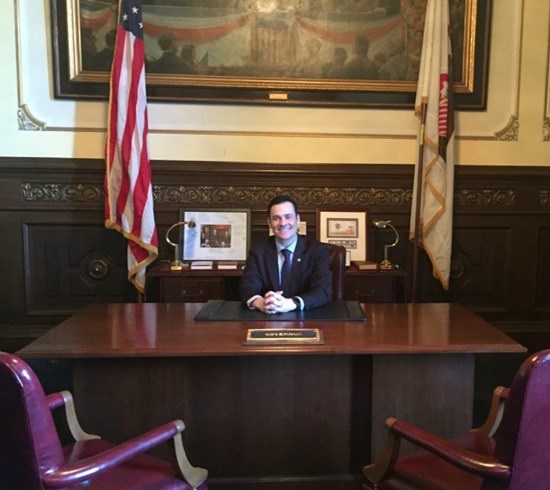 Statement from William J. Kelly: Rauner is costing taxpayers millions of dollars
Gov. Rauner has once again failed Illinois with his failure to pass a budget. He promised taxpayers he would end waste, fraud, and abuse in state government and yet he has never used his line item veto once. He promised Republican voters he would run the state like a business – not out of business.
As a result, Illinois taxpayers will owe hundreds of millions of dollars in interest payments on the state's unpaid bills. Rauner has pledged to sign legislation to expand hate crime classifications, automatic voter registration, which raises voter fraud issues, and the Illinois Trust Act, a secret sanctuary state bill passed on Memorial Day. This is not what Gov. Rauner promised Illinois voters.
If Governor Rauner won't do his job, I will.
---
Tuesday, May 9, 2017 12:00 AM
Statement from William J. Kelly:
"Gov. Rauner refused to answer my questions on his lack of support for Pres. Trump, Illinois' new Sanctuary State legislation and whether he supports it. He also refused to answer any questions about the warehousing scandal with Frank Vala, the man he appointed to lead the Board of Procurement. If Gov. Rauner isn't going to answer my questions as a reporter, I will have to take my questions to a different arena."
---
Friday, May 5, 2017 12:00 AM
I called this one back in 2014.
On Friday, Gov. Rauner called out his Democrat rival J.B. Pritzker and his inherited wealth and claimed he had earned every penny of his millions.
Read my original column in the American Spectator on Gov. Rauner's history of corrupt insider deals and crony politics.
---
Thursday, May 4, 2017 12:00 AM
A Mexican national with a criminal history has been charged with the rape and strangulation death of young Tiffany Thrasher of Schaumburg, Illinois.
---
Thursday, May 4, 2017 12:00 AM
As President Donald Trump was celebrating the House win in the White House Rose Garden, Rauner said in a statement, "The bill that passed in the U.S. House today continues to be of deep concern to our administration.
---
Thursday, May 4, 2017 12:00 AM
Illinois Senate President John Cullerton's plan to protect undocumented immigrants from what proponents consider federal harassment has won approval.

The Democratic-controlled Senate voted 31-21 Thursday to approve the "TRUST Act." It prohibits local or state police from cooperating with federal authorities who are investigating immigrants but do not have a criminal warrant.
---
Thursday, April 20, 2017 12:00 AM
Schaumburg police said a man has been arrested in the strangling death of Tiffany Thrasher, 33, who was found dead in her apartment over the weekend.

Police have not released any details about the suspect or how he was captured, saying only he was arrested Wednesday and is male.

---
Thursday, April 6, 2017 12:00 AM
A mostly empty warehouse at 2410 South Grand Avenue East in Springfield now holds neat rows of filing cabinets and pallets of paper records which belong to the Department of Human Services. The lease agreement binds Illinois to fulfill at least the first five years of the deal, which adds up to a minimum of $2.4 million.
---
Thursday, September 22, 2016 4:12 PM
CHICAGO, Sept. 22, 2016 - Chicago has been branded "America's murder capital and embattled Chicago Mayor Rahm Emanuel is making a major speech Thursday night at Malcolm X College to address the city's violence epidemic.

But Emanuel's former 2015 GOP mayoral opponent William J. Kelly says Rahm's speech is "five years too little and too late."
---
Friday, September 16, 2016 11:05 PM
Kelly: This is Chicago's Brexit. Sadiq Khan has no right to tell Americans to vote for Hillary Clinton for President
---
Wednesday, April 27, 2016 10:27 AM
I want to hear what real people think of Gov. Rauner and his failed leadership in Illinois. When I ran against Mayor Rahm Emanuel, I busted the caps in the race and forced him into a historic runoff. He should have been defeated. However, Backstabbin' Bruce Rauner endorsed his longtime money buddy, Rahm. He claimed Rahm's "financial acumen" would spare Chicago a financial disaster.

Instead, Rahm has been Chicago's greatest financial and social disaster since the Great Chicago Fire and we have Bruce Rauner to thank.

That's why I will be making an important campaign announcement on Monday.
---
Friday, April 15, 2016 9:43 AM
For Rauner Republicans to decide who is a Republican is like Denny Hastert deciding who has family values. By the GOP's new arbitrary rule, former Cook County GOP chairman Aaron Del Mar would have been disqualified as a committeeman for voting for Hillary Clinton in 2008. In fact, many have questioned whether Del Mar and Sean Morrison, the new Cook County GOP chairman, are even Republicans. It's a good thing Del Mar resigned because he, too, would have been fired under this new rule.
---
Wednesday, April 6, 2016 10:19 AM
There's a rumor going around that I'm already an announced candidate for governor against Bruce Rauner in 2018. It's true that I was planning to hold a news conference to discuss the disaster Rauner has been on jobs, education, and this state's dire fiscal situation. Rauner has embarrassed himself with his recent primary losses. He has lost the moral high ground.
---
Monday, December 21, 2015 7:12 PM
Former GOP mayoral candidate William J. Kelly has endorsed James Marter for U.S. Senate over Mark Kirk.
---
Sunday, December 13, 2015 1:50 PM
"The Illinois Republican Party needs to put the Governor's friendship and past business dealings with Mayor Emanuel aside and call for a wider corruption probe of City Hall and the Mayor's office. They need to support this recall legislation now and Gov. Rauner needs to sign it," says Kelly
---
Sunday, December 6, 2015 9:00 AM
A firestorm is raging all over Chicago and Mayor Rahm Emanuel is in the fight of his political life.

It is a fight Rahm might not survive. If he does survive, he will be damaged goods, unfit for voter consumption and big wigs at the DNC know it.

It's only been a week since the late release of the Laquan McDonald police shooting video and the cracks in Emanuel's once impervious political armor are visible.

Last week, thousands of protesters clogged Chicago's Magnificent Mile shopping district. Ducking for cover, the Chicago City Council's Black Caucus — which backed Emanuel for re-election — are now crying, "they were misled" about the video.

Read Latest Breaking News from Newsmax.com http://www.newsmax.com/WilliamKelly/Media-Bias-Barack-Obama-Rahm-Emanuel/2015/12/03/id/704449/#ixzz3tYL4qadj
Urgent: Rate Obama on His Job Performance. Vote Here Now!
---
Saturday, December 5, 2015 9:42 AM
Rahm Emanuel said Wednesday that he would not resign, despite growing criticism for what some are calling his botched response to video footage showing a Chicago police officer last year firing 16 times at Laquan McDonald, who was walking away from officers.
"No," he said, during one of several testy exchanges through the course of a nearly hour-long discussion with POLITICO's Mike Allen and POLITICO Illinois' Natasha Korecki. "Because I really so much looked forward to this interview and I wanted to have it. I just felt so good saying that to you. We have a process called the election. The voters spoke. I'll be held accountable for the decisions and actions that I make."

---
Wednesday, December 2, 2015 9:39 AM
When Rahm Emanuel was a congressman, he was nicknamed "the Jewish LBJ," not only for his ambition, but for his reputation as an amoral political animal focused only on power. Now that he's facing his biggest crisis as mayor of Chicago – the coverup of a video showing a police officer shooting a black teenager 16 times – he's looking much more like Richard Nixon.
---
Monday, November 30, 2015 12:00 AM
Here's something else you should be angry about: Not one of Chicago's major media outlets bothered to investigate the Laquan McDonald police shooting story even though they knew about it. The existence of the video was widely known by February of this year.
The question is a big, fat why?
It took a couple of independent journalists to submit the FOIA request (and a lawyer to file the lawsuit against the city) that resulted in the exposure of this terrible story.
One of the journalists, Brandon Smith, wasn't even allowed into Mayor Emanuel's press conference Tuesday because he "didn't have the proper credentials" issued by the Chicago Police media department. If someone can find the codification of that specific media credentialing process in the Bill of Rights, please send me a link.
The Emanuel Administration tried desperately for 13 months to suppress this video. Rahm had his cronies in the Chicago City Council sneak a taxpayer-funded payoff of $5 million dollars to Laquan's family without a lawsuit just days after his re-election last April.
---
Friday, November 27, 2015 9:38 AM
THERE'S been a cover-up in Chicago. The city's leaders have now brought charges against a police officer, Jason Van Dyke, for the first-degree murder of 17-year-old Laquan McDonald. But for more than a year, Chicago officials delayed the criminal process, and might well have postponed prosecution indefinitely, had it not been for a state court forcing their hand.


---
Tuesday, October 6, 2015 9:46 AM
Mayor Rahm Emanuel's last hand-picked schools chief plead guilty to wire fraud in federal court Tuesday before apologizing to the children, teachers and families of Chicago.

"I am terribly sorry," Barbara Byrd-Bennett said after her arraignment at the Dirksen Federal Courthouse. "They deserved much more. Much more than I gave to them."

Byrd-Bennett, 66, admitted to steering $23 million in Chicago Public Schools no-bid contracts to her former employer, a company called SUPES Academy. In return, she expected to get 10 percent of those contracts in the form of a signing bonus when she retired from the district's top job.
---
Sunday, May 24, 2015 10:03 AM
Pics from Kelly's blowout event with Fox News commentator Dick Morris.
---
Saturday, May 23, 2015 10:07 AM
Watch Fox News commentator endorse William J. Kelly
---
Wednesday, November 5, 2014 11:26 AM
After donating $100,000 to his campaign and busting the campaign limits in the race, Chicago mayoral candidate William J. Kelly is releasing his first TV ad spot, "Chicago's Dead Fish Blues." An Irish Catholic from Chicago's 19th ward, Kelly is the only Republican candidate in the race against Emanuel. See the fishy, biting ad spot here.
---
Saturday, October 25, 2014 4:56 PM
Mayor Rahm Emanuel's idea of a "non-criminal death investigation"
---
Saturday, October 25, 2014 4:54 PM
Mayor Rahm Emanuel's idea of a non-criminal death investigation.
---
Saturday, October 25, 2014 12:00 AM
Mayor Rahm Emanuel's idea of a "non-criminal death investigation."
---
Thursday, October 23, 2014 12:42 PM
Fox Chicago's Mike Flannery interviews Rahm's GOP opponent William J. Kelly. Kelly donated $100,000 to his campaign and busted the caps in the race.
---
Tuesday, October 14, 2014 2:27 PM
I don't need to match Rahm Emanuel dollar for dollar to win this race against Rahm and neither does Ald. Bob Fioretti.
Contrary to popular media belief, busting the caps does not help Rahm - he already has all the money he needs in this race. Rahm could have busted the caps himself but he didn't. By busting the campaign caps, I have now leveled the playing field in this race. Now if any donor or corporation or PAC wants to defeat Rahm Emanuel - they have the opportunity to donate to my campaign without limitation.


---
Tuesday, October 14, 2014 11:16 AM
Watch Bill Kelly's video here and find out how you can help him get on the Chicago mayoral ballot to beat Rahm Emanuel. It's easy. Do it today!
---
Monday, October 13, 2014 2:53 PM
We have a historic opportunity to reclaim the City of Chicago from the clutches of Mayor Rahm Emanuel.
---
Wednesday, September 17, 2014 1:33 PM
William J. Kelly for Chicago launches the "Deadfish" viral video challenge. Calls out Jimmy Fallon for first challenge. #gotdeadfish?
---
Tuesday, September 9, 2014 2:04 PM
It was a beautiful day and an amazing crowd at Ukrainian Village Fest!
---
Tuesday, September 9, 2014 2:01 PM
The William Kelly for Mayor campaign has released a new internet ad: "Chicago's very own."
---
Thursday, September 4, 2014 12:58 PM
Chicago Police superintendent Garry McCarthy meets Red Light Rahm. William J. Kelly for Mayor says the Red Light camera program should be suspended until the investigations are completed. He promises to end the program if elected.
---
Tuesday, September 2, 2014 12:25 PM
KELLY ISSUES DEBATE CHALLENGE:
"Because Rahm is afraid to answer questions or debate this issue, I am more than happy to debate the crime, statistics, strategy, and concealed carry with Police Superintendent Garry McCarthy any time, any place, and anywhere." - William J. Kelly
---
Tuesday, August 26, 2014 4:37 PM
Help William J. Kelly make it Chicago again! Download the petition and help his campaign today!
---
Wednesday, August 13, 2014 4:25 PM
---
Wednesday, August 13, 2014 4:24 PM
---
Wednesday, July 30, 2014 10:24 AM
What this Mayor does not understand is that there is not a wall built around the city to keep taxpayers in. Today, it's a phone tax. In February 2015, if Rahm is re-elected, it will be a property tax increase and the taxpayers will leave.

---
Tuesday, July 29, 2014 9:34 AM
Kelly speaks out against politicians like Rahm Emanuel and his pal Bruce Rauner for their support of the illegal ride-share company Uber and questions their financial interest in the firm.
---
Saturday, July 26, 2014 7:24 AM
Read William J. Kelly's official statement on the crony politics of Mayor Rahm Emanuel and his close pal Republican candidate for governor Bruce Rauner from Friday's press conference.
---
Friday, July 25, 2014 2:01 PM
Mayoral candidate William Kelly will make a statement calling out the cronyism of Mayor Rahm Emanuel and Illinois GOP gubernatorial candidate Bruce Rauner in their support for the rideshare behemoth Uber.

---
Friday, July 18, 2014 2:46 PM
"Today, I am calling for the immediate suspension of Mayor Emanuel's red light camera program until this matter is investigated and the results released to the public."
---
Tuesday, July 15, 2014 5:25 PM
Toni Preckwinkle's heartfelt statement reinforcing her commitment to the people of Cook County and Chicago is more proof that she would have been a great alternative to what we have now.
Although I don't agree with some of her policy positions, I've never questioned or doubted Toni Preckwinkle's sincerity. When it comes to running a city like Chicago, a person's sincerity counts for something. Something important.
---
Tuesday, July 15, 2014 5:20 PM
KELLY ISSUES CHICAGO TRAVEL WARNING IN RESPONSE TO MONTROSE BEACH RIOT"
Mayor Rahm Emanuel has lost control of our city. No area is safe," Kelly says
---
Wednesday, July 9, 2014 1:12 AM
Demand Rahm Emanuel resign from office and sign the petition to recall him.
---
Thursday, June 26, 2014 7:23 AM
"If billionaire Lucas needs a storage unit for his junk, he should pay for it," Kelly says
---
Tuesday, June 24, 2014 11:50 AM
William Kelly rips Rahm on Uber, red light cameras, the murder rate and more. Click here for Kelly's full campaign announcement video for Mayor of Chicago against Emanuel.
---
Wednesday, June 18, 2014 10:43 AM
Former White House advisor and NY Times best selling author Dick Morris joins Chicagoans in their fight to defeat Mayor Rahm Emanuel on June 20 at the Palomar Hotel.
---
Sunday, June 15, 2014 10:27 AM
Save the date for this wonderful event to honor the memories of our city's heroes. This candle light vigil takes place on June 16 at Gold Star Memorial Park in Chicago.
---
Tuesday, June 10, 2014 11:35 AM
"Rahm's spending his time with Hillary Clinton's campaign for President and yukking it up onJimmy Fallon. He doesn't really care about Chicago. Rahm is only a part-time mayor," Kelly says.
---
Thursday, June 5, 2014 10:19 PM
---
Tuesday, June 3, 2014 5:40 PM
"Chicago is a real city and deserves a real Mayor. We need a Mayor who cares more about clean, safe streets than doing fundraisers for Hillary Clinton and appearing on the Jimmy Fallon Show," Kelly says.
---
Wednesday, May 21, 2014 7:33 AM
William J. Kelly Joins Dick Morris for a Major Chicago Event
RSVP for this amazing event. You won't want to miss this! http://www.williamjkelly.org/events
---
Saturday, May 3, 2014 11:05 AM
A reporter grilled Democratic Chicago mayor Rahm Emanuel Wednesday about whether CNN's favorable "Chicagoland" documentary series about the Emanuel administration should be considered an in-kind campaign contribution to the mayor's re-election efforts.