News
Tuesday, May 15, 2018 10:16 AM
Rauner's opponent, William J. Kelly gears up for fight for the Illinois GOP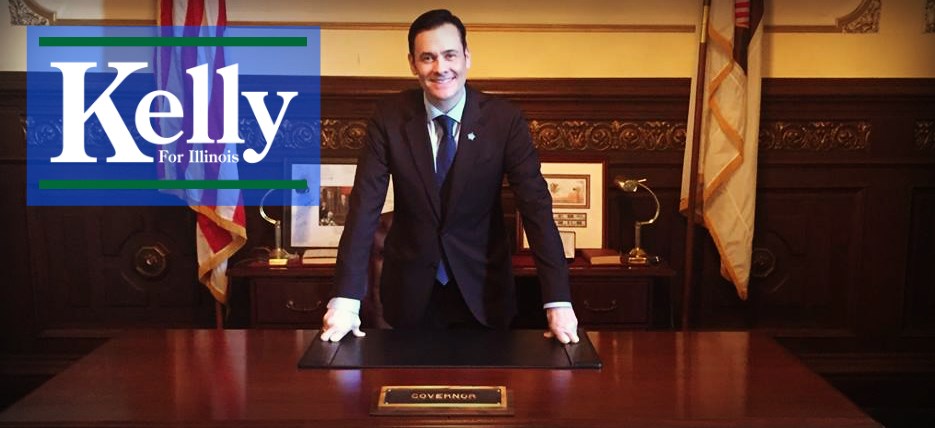 WHAT: William J. Kelly, independent candidate for Illinois Governor, will have a press conference on Friday to discuss the future of the post-Rauner Illinois GOP. Kelly also plans to speak at the Illinois GOP State Central Committee meeting on Saturday morning and will be broadcasting live from the State Central Committee meeting.

Kelly has released the following statement:
The last four years have been difficult ones for those of us who sounded the warning bell on Bruce Rauner and that bell has finally been heard at a terrible cost: Illinois is now a sanctuary state and expanded taxpayer-funded abortion on demand is the law of the land.
The blame is not Governor Rauner's alone; he had help. I blame Rauner's payroll conservatives at Illinois Policy Institute, Illinois Opportunity Project, and Liberty Principles PAC.
In 2013, when Rauner announced for Governor, his history as a liberal pro-abortion, pro-amnesty Democrat donor was already well-known. Ignoring this, a number of conservative leaders and donors heralded Rauner's coming. Illinois Policy Institute's John Tillman and Liberty Principles PAC's Dan Proft were well-paid to induce conservative voters to support Rauner despite his left-wing history. A number of Illinois Tea Party leaders forced Rauner on us too, attacking anyone who opposed him.
For the last four years I, too, have endured the public attacks of Rauner's payroll conservatives. However, since Rauner's betrayal on illegal immigration and abortion, many former Raunerites have apologized to me. We need to recruit new conservative and tea party leaders to take the place of those that let us down.
I am running for Illinois Governor to reform, rebuild, and redeem the Illinois Republican Party now and for the future. Please join me.
WHEN: Friday, May 18, 2018
WHERE: Blue Room (room 010), Illinois state capitol building, 401 S. 2nd Street,
Springfield, IL 62706
CONTACT: Amy Olson 312-768-8683 or by email at williamjpkelly@gmail.com
---
Monday, May 7, 2018 11:39 AM
Kelly: Ives' endorsed Mark Shaw worse than Rauner on illegal immigration
Chicago, IL, May 7, 2018 - The campaign of William J. Kelly, independent candidate for Governor, has issued the following statement on the endorsement of committeeman Mark Shaw for Chairman of the Illinois Republican Party by the former gubernatorial candidate, Rep. Jeanne Ives:
This weekend, Rep. David McSweeney (R-Barrington) and Rep. Jeanne Ives (R-Wheaton) endorsed Lake County Chairman Mark Shaw, claiming he is the "commonsense conservative" we need to lead the Illinois GOP. McSweeney and Ives have got it wrong again. They were wrong when they endorsed Rauner in 2014 and Illinois is now a sanctuary state with expanded taxpayer-funded abortion. Today, they are wrong on Mark Shaw.
Shaw is a big supporter of Lake County Sheriff Mark Curran, Illinois' pro-amnesty sheriff. I publicly opposed and debated Curran in 2013 at the Republican Assembly of Lake County over his support for SB 957, a bill that granted driver's licenses to undocumented immigrants. Shaw and Curran both opposed me at this meeting. SB 957 was pushed by the Illinois Refugee and Immigrant Rights Coalition, the same group that lobbied to make Illinois a sanctuary state.
Last August, Shaw wrote a letter urging Governor Rauner to veto the Trust Act because the bill wasn't strong enough; because it didn't really do enough to help undocumented immigrants. Conservatives do not need a GOP party chairman who is to the left of Rauner on illegal immigration and sanctuary states. That is the last thing we need.
For four years counting, I have spoken out against Bruce Rauner while conservative leaders were on his payroll. I could not have been more right about Rauner but I was one of the few. We can no longer afford to trust the opinions, judgments, or endorsements of Rauner's payroll conservatives. We need and deserve new leaders who do not sellout their principles at the drop of a hat.
Republican voters deserve a real conservative choice for state party chairman. Neither Mark Shaw nor Tim Schneider is an acceptable option for GOP state party chairman.
###
For more information, visit www.williamjkelly.org For questions or additional comments, contact Amy Olson 312-768-8683 or by email at williamjpkelly@gmail.com.
---
Saturday, May 5, 2018 6:02 PM
Flashback: Kelly exposes Rauner's sanctuary state bill
The Kelly campaign has released the following statement:
One year ago today, I confronted Governor Rauner about a controversial piece of legislation now known as the "Trust Act." I not only exposed that Illinois was on the fast-track to becoming a sanctuary state but that Governor Bruce Rauner supported the Democrats' legislation. Where were the "conservative leaders" when voters needed then and why didn't they speak out against this legislation before it passed? Where were Republican officials like Rep. Jeanne Ives, Rep. David McSweeney, Sen. Dan McConchie (who voted with Rauner to make Illinois a sanctuary state)? It's time for new Republican leaders who will stand up for the GOP party platform and not sell-out their principles for money to people like Governor Rauner. It's time to plan for a new beginning and a new more conservative party in Illinois.
---
Tuesday, May 1, 2018 3:22 PM
One year ago, Tiffany Thrasher was murdered by an illegal immigrant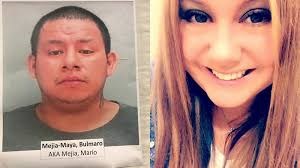 April marked the one-year anniversary of Tiffany Thrasher's death by a man who should not have been in this country. He was a green card holder with a long and violent rap sheet. He should have been deported.
Tiffany Thrasher was found strangled to death on Easter Sunday morning in her apartment. She was scheduled to sing at Easter mass and when she failed to show up, members of Living Hope Church in Elk Grove Village became concerned and called the police.
Bulmaro Mejia-Maya, a construction worker who lived next-door to the victim, has been charged with first-degree murder, aggravated sexual assault, and home invasion in the killing of Thrasher
Illinois Politicians and the media have ignored Tiffany Thrasher's murder on Easter Sunday in 2017. Governor Rauner has never spoken of it. J.B. Pritzker wouldn't dare mention it.
Most people have never heard her name. I wrote this Daily Caller piece on Tiffany Thrasher.
Please share it as widely as you can.
http://dailycaller.com/2017/04/21/another-illegal-immigrant-might-be-behind-a-brutal-murder/
---
Sunday, April 29, 2018 6:00 PM
Kelly: Rauner, Pritzker afraid to talk about Tiffany Thrasher
The campaign of William J. Kelly has issued the following statement:

Of all the candidates running for Governor, primary and general, I am the only candidate for Governor who has dared to talk about the rape and murder of Tiffany Thrasher by a man who should never have been in this country. I intend to make justice for Tiffany a central part of my independent campaign for Governor. I haven't heard one word from Bruce Rauner or J.B. Pritzker about the murder of Tiffany Thrasher and voters must ask why. We need leaders who are more concerned about people than being politically correct.