News
Tuesday, October 17, 2017 10:25 PM
Kelly questions 56% jump in Rauner's income since 2014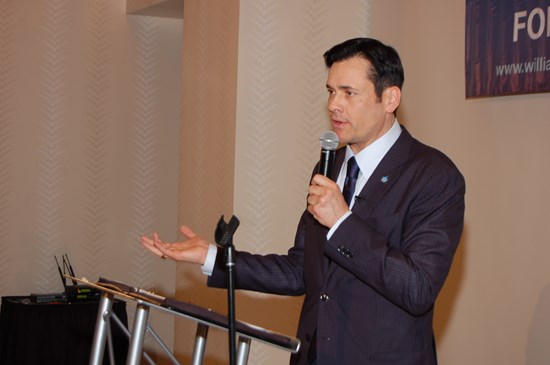 Rauner's Republican challenger William J. Kelly has issued the following statement on the Rauner's income increase as reported in his tax returns:
Yesterday, Governor Rauner reported a 56% increase in his income from the time he was elected in 2014. He reported $58.3 million in income in 2014 and $91 million in 2016. In 2015, he reported $188 million - triple his income from the previous year.
It is often said that a man cannot get rich from politics unless he is a crook. In his role as Governor, Rauner appoints his friends to the Illinois Board of Investment, the same board that makes pension investments. It is time we question how GTCR, Rauner's firm, has benefitted from this unbelievable conflict of interest.
Rauner has made more money as Governor than he did when he was a private citizen. As a candidate, he promised an end to politics as usual and corrupt insider games. He has broken that promise too. I guess he was in it for the money all along.
###
---
Sunday, October 15, 2017 12:54 PM
Kelly joins Stephen K. Bannon at Values Voter Summit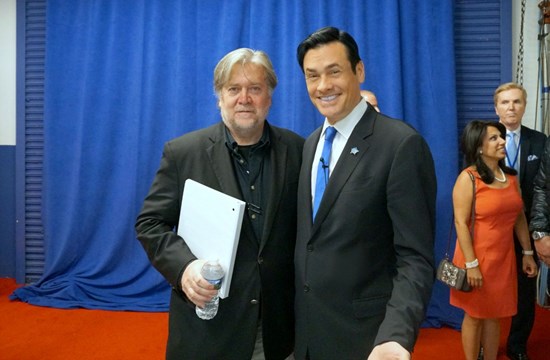 "My race in Illinois against Bruce Rauner is the perfect illustration of what my old boss from Breitbart - Steve Bannon - talked about this weekend at the Values Voters Summit in DC. The battle for 2018 is the Rauner establishment GOP Party versus us. I'll take those odds any day!" - William J. Kelly, Republican candidate for Illinois Governor
Join us at williamjkelly.org
---
Monday, October 9, 2017 4:41 PM
Republican candidate William J. Kelly attacked by Rauner supporter at Columbus Day Parade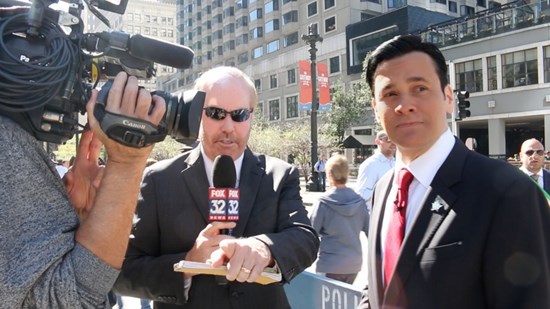 William J. Kelly, Republican candidate against Bruce Rauner, has issued the following statement:
I went to the Columbus Day Parade today not only as a Republican candidate for Governor but as a supporter of the Italian-American community and a 4th degree member of the Knight of Columbus.
While doing an interview with reporter Mike Flannery of WFLD-TV, the local FOX affiliate, I was attacked on-camera by a supporter of Bruce Rauner. It is unacceptable for any candidate for public office to be attacked. Consequently, I have filed a police report against my attacker to send a clear message that I will not be intimidated by any political thugs of Governor Rauner.
Chicago is known nationwide and worldwide for its violent crime and political corruption. When I win the Republican primary against Bruce Rauner, the man who betrayed voters by making Illinois a sanctuary state, forced taxpayers to fund abortion, and who opposes President Trump, I will restore pride and honor to Chicago and the State of Illinois.
###
For comment or interview, contact Amy Olson at 312-768-8683 or by email at williamjpkelly@gmail.com


---
Wednesday, October 4, 2017 1:39 PM
William J. Kelly names Brian Leggero for Lieutenant Governor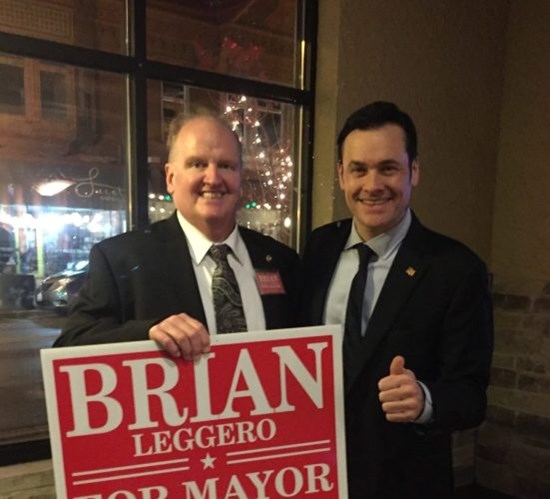 William J. Kelly, Rauner's only GOP opponent, has issued the following statement:
I am very proud to announce Brian Leggero aas my running mate for Lieutenant Governor in my race against our failed Governor Bruce Rauner.
Brian is not only a business owner but a broadcast industry professional with 26 years of experience. He garnered an impressive 51% in the recent Rockford mayoral primary.
Together, the Kelly-Leggero team will run a 100% positive campaign on the issues, unite the Republican Party, and ignite an Illinois miracle.
Ray Tranchant was unable to serve due to a residency issue but will be speaking on behalf of the Kelly-Leggero ticket on the issue of illegal immigration - an issue he knows about first-hand due to the death of his teenage daughter at the hands of an illegal immigrant.
###
---
Sunday, October 1, 2017 6:38 AM
Conservative Kelly Replaces Rauner at Annual Southwest Republican Family Picnic
After his vote on HB40 which mandates taxpayer-funded abortions in Illinois, Bruce Rauner was publicly disinvited from the Annual Southwest Republican Family Picnic by Cook County Commissioner Sean Morrison Saturday. The event was sponsored by the Palos Park GOP.

In Rauner's place, Rauner's conservative opponent in the Republican primary, William J. Kelly, took his place.

"I took pro-sanctuary state, pro-taxpayer-funded abortion traitor Bruce Rauner's place at the Southwest Republican picnic and I will take his place across Illinois, including the Illinois Governor's office," Kelly said. Our pro-sanctuary state, pro-abortion Governor was too cowardly to face this Republican crowd."

Kelly stole the show when he mocked the failed Republican Governor with this funny version of "Hound Dog," singing "Rauner ain't no friend of mine."

"Everybody at the picnic told me they were voting for me and if Rauner had showed himself, he would have been booed out of the park. They're right." Kelly added.

Kelly announced his campaign for Governor in May, when GOP leaders were silent on Rauner. Kelly has publicly opposed Rauner's taxpayer-funding of Planned Parenthood, his bill forcing Christian doctors to promote abortion, his sanctuary state bill, and HB40.