News
Monday, November 20, 2017 6:51 PM
Ives campaign doing damage control on fake Bannon story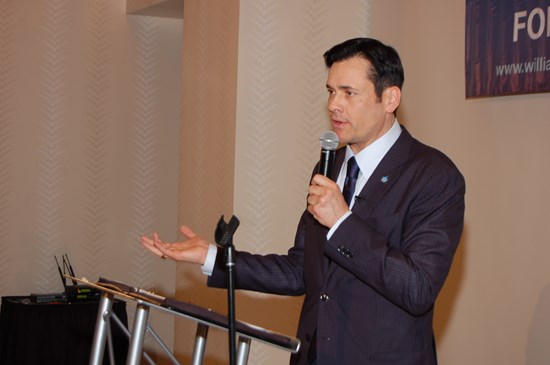 William J. Kelly, Republican candidate for Illinois Governor against Bruce Rauner has released an updated statement about the fake Steve Bannon profile controversy:
I am heartened over the number of people who reached out to me, outraged that they were deceived over a fake Steve Bannon profile page that endorsed my opponent Jeanne Ives. My friends and supporters are understandably upset and outraged about this controversy. The fake profile has been used to buttress Ives' campaign and many people were led to believe it was real.
The fake post has already been taken down.
Ives and her campaign could have and should have apologized for promoting this fake news. She did not. She made it worse. Her campaign's surrogates attacked me personally because I dared to tell people the truth: The Bannon page is a fake. This is a pathetic attempt at damage control. It's juvenile. It reflects a moral instability.
I am running against Bruce Rauner because he is a bad candidate. He was a bad candidate in 2014 and he is a bad candidate in 2017. I will not exchange one bad candidate for another. It is time for conservatives to drain the Swamp in Illinois. How do we achieve that? We need to replace Bruce Rauner and we need to replace the insiders, like Jeanne Ives, who supported his candidacy for cash.
###
---
Monday, November 20, 2017 7:10 AM
Ives Campaign Promotes Fake Steve Bannon Page Endorsement
William J. Kelly, Bruce Rauner's Republican opponent, has issued the following statement:
This weekend, a fake Steve Bannon Page on Facebook endorsed Jeanne Ives for Governor. I checked directly with Bannon and his team and they confirmed the Facebook page is a fraud. Bannon is in contact with Facebook to have this page taken down. The real Steve Bannon doesn't even have a Facebook page.
It is obvious this is a fake Steve Bannon page but that didn't stop Jeanne Ives campaign and her supporters, including Illinois Tea Party coordinator Denise Cattoni from sharing the fake Steve Bannon page endorsement. The post has since been taken down: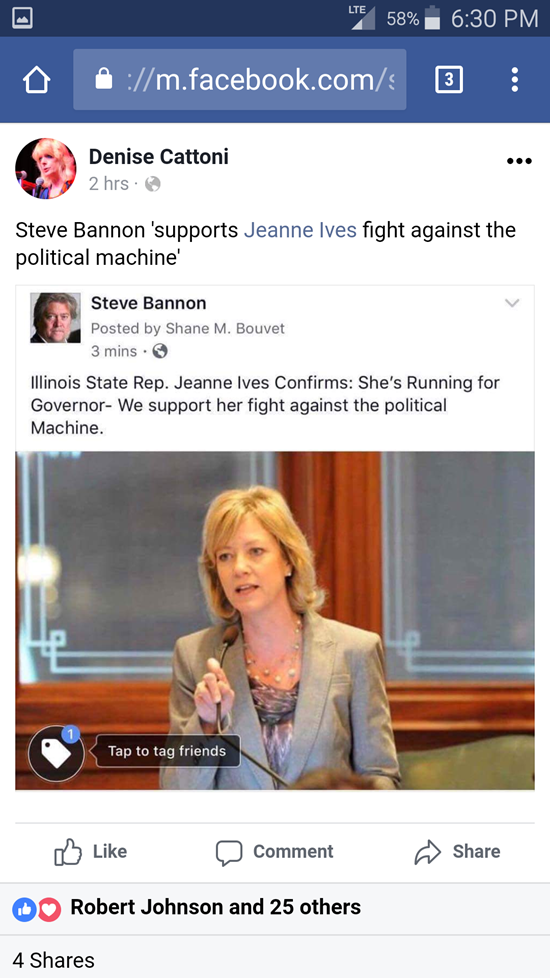 Source: Fake Steve Bannon Facebook Page
Who with the Ives campaign perpetrated this fraud? This is another political dirty trick. It is dishonorable to trick people like this. It is deceitful and it shows that Rep. Ives doesn't have the character or the honesty to run for office.
I am not surprised by this deceit. Ives is backed by the very same people who helped elect Bruce Rauner. She is supported by the very same people who took Rauner's money and attacked his critics. This includes John Tillman, Dan Proft, the Illinois Policy Institute, and the Illinois Opportunity Project. The Illinois Tea Party with the help of Denise Cattoni was hijacked in 2014 to help elect Rauner despite his Democrat history. These people sold us out and now they are selling us on Ives.
I know Steve Bannon. I worked with Steve at Breitbart. I was good friends with the late Andrew Breitbart. And I can tell you both Andrew and Steve would never have sold us out to Bruce Rauner as Jeanne Ives and her team did. The people who sold us out to Rauner are the Swamp. We need to drain the Swamp in Illinois and everywhere else and that is what my campaign for Governor is all about.
###
---
Thursday, November 16, 2017 10:11 PM
Kelly: Conservatives must hold the Rauner Swamp accountable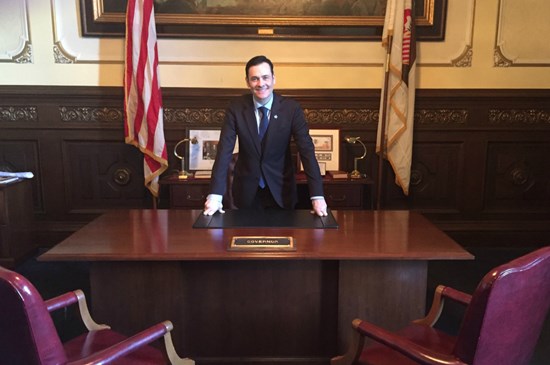 William J. Kelly, Republican candidate for Governor against Bruce Rauner, has released the following statement:
"We are at another dangerous crossroads for Republicans in Illinois. For years, I have worked to build a real Republican Party in Illinois. To do this, we need to hold the Rauner Swamp accountable. Accountable for taxpayer-funded abortion. Accountable for making Illinois a sanctuary state. Accountable for that tax hike, the billions in mismanaged debt and millions in interest. Accountable for millions in our tax dollars to Planned Parenthood and illegal immigration front groups.
The Rauner Swamp isn't just Bruce Rauner. We must also hold people like Jeanne Ives and the people who are running her campaign accountable for helping elect Bruce Rauner in the first place. They ignored my warnings and instead chose to take Rauner's money.They cannot be trusted to lead."
---
Wednesday, November 15, 2017 8:57 PM
Kelly: Ask Rauner about his taxpayer grants to Planned Parenthood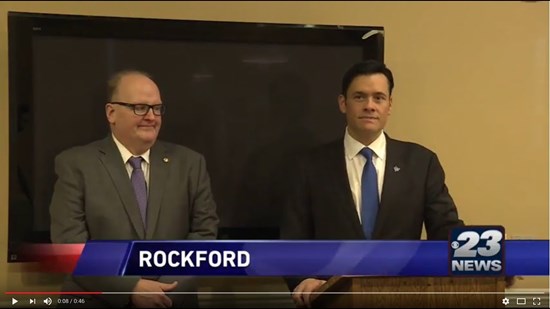 William J. Kelly, Republican candidate for Illinois Governor against Bruce Rauner, has issued the following statement:
Recently, a few conservative leaders have told us they are really, really mad at Bruce Rauner for signing a bill making taxpayer-funded abortion law. One of them, Rep. Jeanne Ives, also recently announced her last-minute campaign for Governor. I don't believe these people are really mad at Bruce Rauner and here's why.
In 2015, Bruce Rauner gave his Planned Parenthood friends $3.6 million in taxpayer grants and these conservatives said not one word. This was during the budget impasse. It gets worse. In 2016. Rauner signed a bill forcing doctors and crisis pregnancy centers to promote abortion. Again, these conservative leaders - Ives, included - was still happily riding the Rauner gravy train. Her campaign is run by the very people who have profited from Rauner the most. You should be asking why.
For background, read My 2016 column at American Spectator.
Illinois families and principled conservative voters deserve better than more hypocrisy and lies from these false leaders. They deserve true leadership.
Please support my campaign at williamjkelly.org today.
---
Tuesday, November 14, 2017 4:12 PM
Flashback: Kelly: Why I'm Not Drinking the Rauner Kool-Aid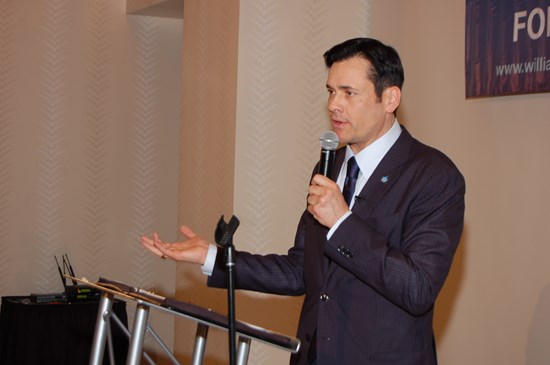 William J. Kelly, Republican candidate for Governor against Bruce Rauner, has released this statement:
I sounded the alarm on Bruce Rauner's left-wing history as early as 2012 when Jeanne Ives and the people who are running her campaign were taking Rauner's money and helping him take-over the Illinois GOP.
In my flashback column at Chicago Tribune from 2014, I wrote this:
Over the past few days, Republican gubernatorial candidate Bruce Rauner's numerous paid supporters have come out on social media to shriek, attack, rage, and castigate those Independent, Republican, and Democrat voters who have not yet partaken of the 'Rauner Kool-Aid.'

They demand: Drink it!

Nope, I won't drink the Kool-Aid.

With disgust, I've read the reports about Bruce Rauner and the Illinois Republican Party sending gun-toting private investigators to intimidate the Libertarian Party's petition circulators and pressure them into signing false affidavits. Any criminal wrongdoing should be fully prosecuted.

The Libertarian Party's experience reminded me of my own "initiation" into Illinois politics.

Years ago, I decided to run for countywide office and my opponent - unbeknownst to me - was Gov. Jim Edgar's secretary son. My supporters and I gathered the necessary 10,000 signatures in frigid temperatures and were quite proud of each other by the time filing day came around.

A few days later, there was a knock at the door. My opponent was challenging my petitions. But it wasn't any petition challenge. My opponent had hired ex-sheriff deputies to scare little old ladies into signing false affidavits that said I had forged their names on my petitions. Intimidating little old ladies and charging a kid with perjury - it doesn't get any lower than that especially in a race that a Republican had no chance to win in the general election.
Well, we found those little old ladies and gathered letters from them recanting their false affidavits. The election commissioners laughed the complaint out the door and dropped the perjury charge. Mike Kasper - yes, that Mike Kasper - the election lawyer who filed the complaint, told me afterwards, "It was nothing personal."
The moral of the story is that I despise bully candidates and their thug tactics and I believe that is what Bruce Rauner is: a bully. He has all the tells.
You can read the full column here.
If you want a different outcome then you need to elect real leaders who had values and the principles when it mattered. Please share this link and support my campaign at williamjkelly.org